Portable Mast Mounting Systems
NEW QUICK RELEASE/INTEGRAL TRIPOD –QPOD
Our strongest and most versatile tripod. 2 zinc plated versions are available- QPOD S has a retracted height of 1130mm and a 1100mm adjustable leg radius (weight 13kg) suitable for masts up to 12 metres or QPOD L has a retracted height of 1480mm and a 1500mm adjustable leg radius (weight 18kg) for masts up to 20 metres and some of our keyed mast range. 3 x Telescopic legs, a telescopic central foot and upper clamp receiver are included. Easy to deploy on uneven ground. Has 2 carabiners to attach weight bags. Integral or quick release from mast function. Quick release wheels are available.
Please remember to order a QPOD to mast adapter clamp.
A super strong Stainless Steel version of QPOD L and S is now available
QPOD ACCESSORIES TRIPOD STEP SHELF
Constructed of aluminium tread plate, the step shelf simply attaches to the tripod for holding equipment, a step to access clamps or to install equipment on taller retracted masts.
Available for
QPOD S: Weight 2.5kg
QPOD L: Weight 5.5kg
INVERTED MASTS
Our masts can be used inverted (downwards) by utilising a winch and guy ropes – usually while mounted on a QPOD or fixed to a structure. They have proved an invaluable tool within the offshore oil industry as they are used for underwater inspection and installation monitoring without the need for a diver entering a very dangerous environment. They are also used in other industries for inspecting inside shafts, vessels and pipes. Portable masts of any size can also be inverted using our standard QPOD with an adapter kit.
QUICK RELEASE TRIPOD WHEEL BASE
1. Specifically designed to enable quick and easy movement of masts and can be used with masts with quick release integral tripod.
Weight 3kg
420mm x 440mm x 170mm
Quick release double grab handle available
2. Optional Pneumatic wheel base also available
Weight 4kg
520mm x 600mm x 300mm
CPOD TRIPODZINC PLATED
New compact design with feet that stow away in the tripod arms and a new central fourth leg for extra stability. Strong steel zinc plated construction, allows deployment on uneven ground. Suitable for masts up to 115mmØ. 1m tripod feet are also available.
Strong and lightweight.
Weight – 21kg.Length – 1.5m.
ADJUSTABLE DRIVE ON MAST MOUNT – ZINC PLATED
The fully adjustable drive on vehicle mounting system is ideal when the tripod mount is not convenient. Simply, drive on using front or rear wheel. The mounting post can be adjusted forward, backwards and side to side to allow level deployment of the mast and stowed flat when not in use.
Weight – 12kg
Size – 880 x 270 x 215mm.
Upper support system available for increased stability.
Soft ground spreader board.
900mm x 300mm x 18mm
Padded drive on bag available.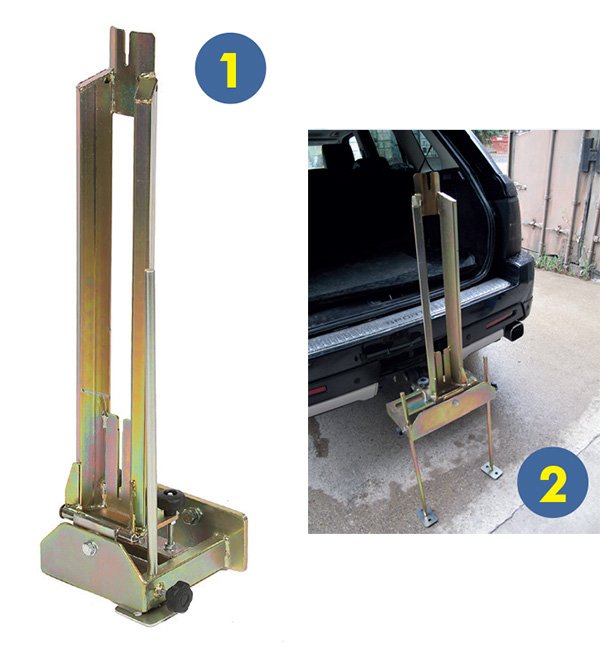 ADJUSTABLE TOW HITCH MOUNT – ZINC PLATED
1. Available for masts up to 115mmØ. The universal vehicle mounting system attaches to the tow hitch of any vehicle. It is fully adjustable for vertical deployment of the mast when parked on uneven ground.
Weight – 11kg Size – 875 x 270 x 220mm.
Upper support system available for increased stability.
Padded tow hitch mount bag available.
2. Universal model available for a tow ball.
The 2 way post pivoting function allows the mounting post to be rapidly levelled prior to use
CPOD / DRIVE ON OR TOW HITCH COMBO – ZINC PLATED
If you intend to use a mast in a public place, we would strongly advise our tripod/drive on or tow hitch combo. The tripod occupies a large area and can be a trip hazard. Using a drive on or tow hitch mast mount will occupy a much smaller area.
Supplied with one quick release mast mounting post that fits both systems.
Combined weight – 32kg.
ADJUSTABLE BOLT DOWN MAST MOUNT – ZINC PLATED
It can be easily fixed to trailers or onto a suitable concrete base. For bigger/heavier masts extra lateral steel supports are available. Fabricated from strong steel box section and of rugged design, the entire assembly is zinc coated and the pivot is quick release or can be anti-tamper (locked into position).
The mast can be stowed horizontally for transport.
Weight – 12kg
Size: 450 x 450 x 870mm.
The 2 way post pivoting function allows the mounting post to be rapidly levelled prior to use
LAMP POST/STREET FURNITURE MAST MOUNT
The mast mounting bracket that fi ts to all diameters and shapes of lamp posts, etc. Commonly used for traffi c analysis, air quality and noise monitoring. Strong steel construction – fully zinc coated.
Suitable for masts up to 4ӯ and up to 17m extended.
Weight – 5kg.
780mm x 220mm x 160mm
MOUNTING POSTS & WALL MOUNTING BRACKETS
Numerous wall mounting brackets are available and can come with spacers to allow masts to be mounted away from the wall to avoid overhanging soffits & guttering. The standard distance from a wall is 215 mm (8.5" in the UK) other sizes can be ordered– zinc plated. Weight – 5kg.
Also Available…
GALVANISED BOX SECTION STEEL MOUNTING POSTS
These can be concreted into position then the mast is mounted on quick release brackets for rapid deployment.
Many sizes available depending on the mast size.
MOUNTING CLAMPS
A large range of upper and lower mounting clamps are available for all diameter masts for easy installation to walls, vehicles, ISO containers, roof racks etc.
101mm Quick Release Wall Mount Bracket
101mm Lower Mast Mounting Bracket.
Quick release or fixed versions available.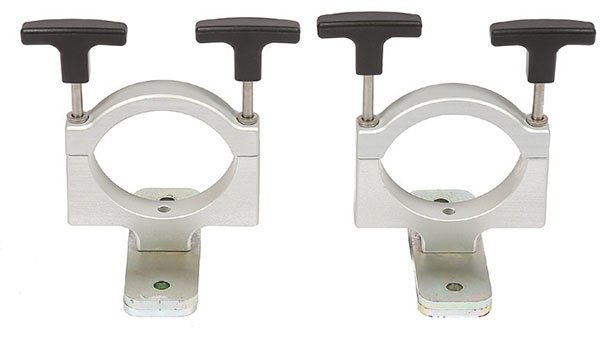 ROOF RACK CLAMPS
Useful for transporting a mast on your roof rack. The clamps are quick release and sold in pairs. A mast head protection cover
should be ordered with this item to protect the mast in transport. 101mm roof clamps.
GRAB HANDLE FOR MASTS
These rubber handles make moving the mast around much easier, available to fit brackets on mast sizes 66mm, 80mm and 101mm Ø.
PIVOTING MAST BASE ADAPTOR ASSEMBLY
Made from a robust steel, this base allows you to pivot the past 90 degrees which makes the alteration of head loads very simple. They are available for all diameter portable masts. The base plate can be bolted down or by way of round ground stakes on soft ground.
BUGGY / C POD SYSTEM
Commonly used in situations where rapid deployment in numerous locations is required. The tripod has 3 x 1 metre legs used for levelling on uneven ground. The tripod is quick release for separate use away from the buggy. It comes with a useful V support for lowering the mast into the horizontal position wherein transit. The buggy also provides a useful platform to transport other equipment. Suitable for masts up to 15 metres in the 101mm diameter range.
Size 1550mm x 620mm x 560mm
Weight including tripod 53kg